Ongoing Investigations
The organization is continuing it's investigations of a private residence in Ozark, Missouri and our now gathering investigation information about Peace Church Cemetery in Joplin, Missouri.
Upcoming Investigations

Also coming up is a trip to Mount Vernon's haunted Spanish Fort Cemetery where mysterious glowing red lights have been reported. Trip dates will be updated, as information is made available.
4-State Explorers Executive Director to Speak at Ozark UFO Conference

Director is Speaker at Alternate Realities Conference With Travis Walton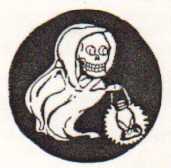 Hello I'm Spooky The 4-State Explorers Mascot.
.